Brutal Assault 25 (2020 + 2021 + 2022)
obsah aktuální k datu - 25.4.2022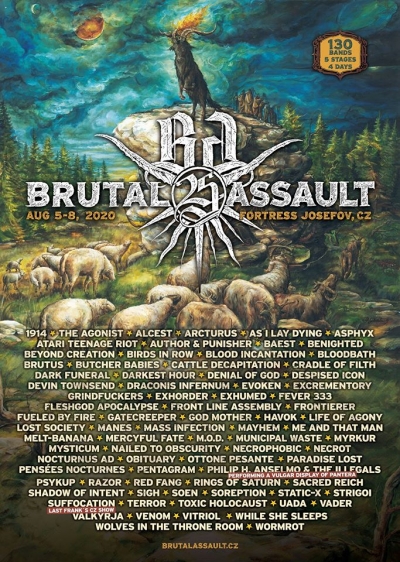 datum
9.8.2022 - 13.8.2022
2022-8-9
2022-8-13
kraj
Královéhradecký kraj
žánr
doom metal, death metal, brutal/slam death metal, black metal, thrash metal, death/doom metal, funeral doom metal, stoner metal, sludge metal, atmospheric black metal, pagan/folk metal, post metal / post hardcore / Psychedelic metal, avantgarde metal, industrial metal, crossover / crossover/thrash, grindcore/goregrind/crust, hardcore, hardcore/punk, ambient / dark ambient / dark folk, post rock
kapely
1914, ABBATH, ABORTED, AD NAUSEAM, AHAB, ALCEST, Amenra, ARCTURUS, AS I LAY DYING, ASPHYX, AT THE GATES, ATARI TEENAGE RIOT, AVATAR, AVIANA, BAEST, BENIGHTED, BLOOD INCANTATION, BLOODBATH, Bloodywood, BUTCHER BABIES, CANNIBAL CORPSE, Carnation, CATTLE DECAPITATION, CLUTCH, COMEBACK KID, CONJURER, Cradle of Filth, D.R.I., DARK FUNERAL, DARKEST HOUR, Decapitated, DEVOURMENT, DIE KRUPPS, DOOL, DRACONIS INFERNUM, EVERGREEN TERRACE, EVOKEN, EXCREMENTORY GRINDFUCKERS, EXHORDER, EXTERMINATION DISMEMBERMENT, Extinction A.D., EXHUMED, FLESHGOD APOCALYPSE, FRONT LINE ASSEMBLY, FRONTIERER, FUELED BY FIRE, GAAHLS WYRD, GOD MOTHER, HANGMAN'S CHAIR, HENTAI CORPORATION, Humanity's Last Breath, IGORRR, IMPERIAL TRIUMPHANT, INSOMNIUM, Jinjer, KATATONIA, KORPSE, LEPROUS, LIFE OF AGONY, Lorna Shore, LOST SOCIETY, MANES, MASS INFECTION, MAYHEM, MELT-BANANA, MERCYFUL FATE, MISERY INDEX, MORS PRINCIPIUM EST, MUNICIPAL WASTE, MYSTICUM, NAILED TO OBSCURITY, NECROPHOBIC, NECROT, NEKROGOBLIKON, NUNSLAUGHTER, ONSLAUGHT, Oranssi Pazuzu, OTTONE PESANTE, PALLBEARER, PARADISE LOST, PATHOLOGY (USA), PENSÉES NOCTURNES, PENTAGRAM, PHILIP H. ANSELMO & THE ILLEGALS, PHLEBOTOMIZED, PSYCROPTIC, PSYKUP, PUPIL SLICER, RAZOR, REGARDE LES HOMMES TOMBER, RINGS OF SATURN, RIVERS OF NIHIL, SABLE HILLS, SACRED REICH, SICK OF IT ALL, SIGH, Skepticism, Skywalker, SLAGMAUR, Slope, SOEN, SÓLSTAFIR, SOREPTION, STRIGOI, SUFFOCATION, Swallow the Sun, TesseracT, THE AGONIST, THE BLACK DAHLIA MURDER, The Devil's Trade, Thy Catafalque, UADA, UNDERGANG, Unearth, URNE, VALKYRJA, VENOM, VIO-LENCE, VITRIOL (USA), VOICES, VOIVOD, VOLA, WINTERFYLLETH, a další...
vstupné
limitovná vstupenka nebyla => od začátku předprodeje to bylo za 2450 (od 11.9.2019 do 30.4.2020) / 3800 (pozdější předprodej na duben 2022) / 4100 (pozdější předprodej na květen 2022)
Skrze epidemii koronaviru byl přeložen z roku 2020 (5.8.2020 - 8.8.2020) na 10.8.2021 - 14.8.2021 a poté až na rok rok 2022.
Z překládané soupisky (od roku 2020) odpadly kapely (je možné, že se některé ještě vrátí!):
AUTHOR & PUNISHER, BEYOND CREATION, Birds In Row, BRUTUS, DEATH BY STEREO, DENIAL OF GOD, DESPISED ICON, DEVIN TOWNSEND, FEVER 333, GATECREEPER, HAVOK, JOHN GARCIA & The Band of Gold, KMFDM, Kvelertak, MALEVOLENCE, ME AND THAT MAN, M.O.D., MYRKUR, NOCTURNUS AD, OBITUARY, Phil Anselmo & The Illegals, RED FANG, REVOCATION, SHADOW OF INTENT, Svartidaudi, TERROR, TOXIC HOLOCAUST, Vader, VANESSA, WHILE SHE SLEEPS, WOLVES IN THE THRONE ROOM, Wormrot

Ty nahradily kapely:
Těžko soudit kdo je náhradou a kdo by byl na soupiskách v letech 2020 a 2021.

7.4.2022 odpadly kapely: Bell Witch, EvilDead, Static-X, Tallah a naopak se vrátila kapel  VIO-LENCE spolu s dalšími 11 kapelami.